Dr. Dhaliwal is a veterinarian in Ypsilanti with a strong interest in orthopedic surgeries he emphasizes importance of compassionate care.
Book An Appointment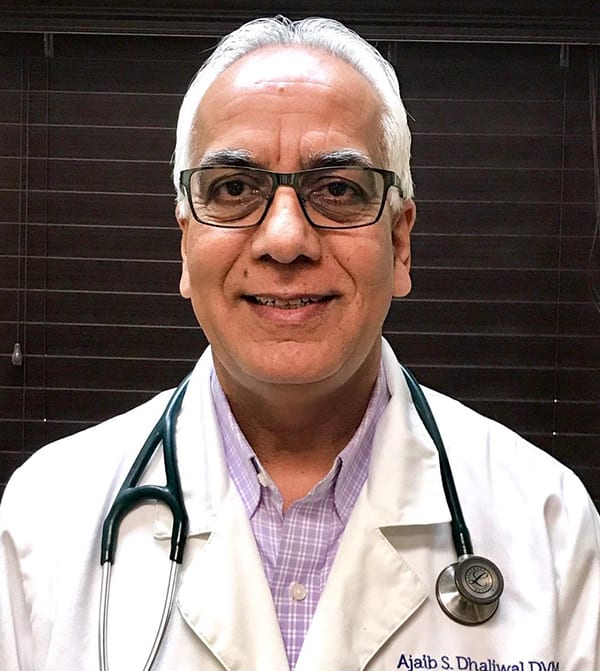 Dr. Dhaliwal
Dr. Ajaib S Dhaliwal, DVM completed his master's degree with distinction from the College of Veterinary Sciences (GADVSU) in Punjab, India, where he joined the college faculty as an Assistant Professor for 5 years. Moving with his family to Canada, Dr. Dhaliwal received his Doctor of Veterinary Medicine degree from The University of Guelph in 1997 and worked for 2 years in small animal practice in Winnipeg, Manitoba. With an interest to pursue a career in clinical practice in the USA, Dr. Dhaliwal joined the team at VCA as an Associate Veterinarian in 1999, leading preventative care, general medicine, dentistry, and surgical procedures for small animals.
His mission for clinical excellence led him to own a practice in Ypsilanti, Michigan in July 2003, which he has since expanded in size and services rendered. His team's core ideology emphasizes the importance of compassionate care, excellent client service, blended with clinical excellence. Over the past 16 years, Dr. Dhaliwal has grown his team to open several other practices, offering a variety of services from general medicine to advanced soft tissue and reconstructive surgeries. He has very strong interest in orthopedic surgeries (fracture repairs, cruciate repairs (TPLO, TTA and MRIT), bone plating, luxating patella, etc), and has attended multiple courses and workshops in small animal fracture management.
He currently resides in the Metro-Detroit area with his wife, Swaran, daughter Divya, son Armaan, and their dog Bruno. Outside of his duties at Michigan Avenue Animal Hospital, he enjoys reading, writing, and mentoring high school and college talent on the power of strength-based leadership development.
Caring for Pets in Ypsilanti
Michigan Avenue Animal Hospital is accepting new patients! Get in touch today to book your pet's first appointment.